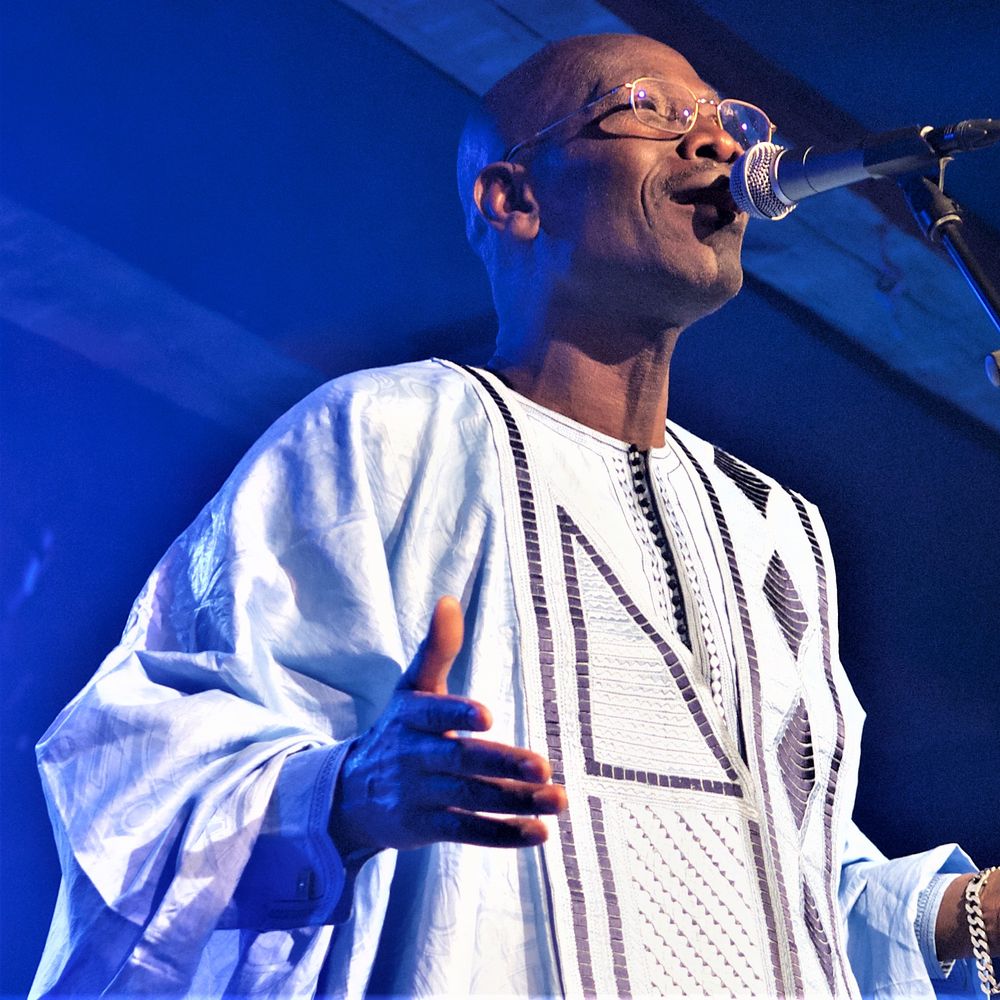 Biography of Pape Djiby Ba / Swiss African Orchestra
Pillar in the advent of the modern music of Senegal, with the groups flagship of the national orchestra, Pape Djiby BA is distinguished, in the expression of its art, by the roaming at the service of the brewings in the favor of the communions. If its consecration was made in adolescence at the beginning of the 70s, its artistic challenges have always been inspired by openness and meetings in search of an innovative enrichment. 
This nightingale with lyrical flights is a sparkling enthusiasm in the exercise of exchange whose career is illuminated Mac Fallow Youssou Ndour including among others by Disiz the plague, in fact to contribute to the enhancement of the Afro pop in the world music concert. 
The richness of his discography, whose theme is rooted in the essential values of his society, has given him popular and institutional recognition, as evidenced by the decorations in the high orders of the republic for services rendered to the culture. 
Author, composer, percussionist, melodist of the African lute named Xalam, Pape Djiby BA has worked hard by enrolling as an adult in the conservatory in the major trouble to facilitate sharing opportunities at the mercy of this universal language that is music. 
 Also, in its perpetual quest, the Helvetic sequence is enriched by a symbiotic interpretation of his repertoire as to prove that the Swiss are able to play the music of Africa. 
Then, presents its new group with the generic name of Swiss African Orchestra in the will to magnify the brewings and the communions of the possible for the seductions ambitioned of various publics. 
Biographie de Pape Djiby BA / Afro Suisse Orchestra
Pilier dans l'avènement de la musique moderne du Sénégal, avec les groupes phare
à l'orchestre national, Pape Djiby BA se distingue, dans l'expression de son art, par l'itinérance au service des brassages à la faveur des communions. Si sa consécration s'est faite en pleine adolescence au début des années 70, ses challenges artistiques ont toujours été inspirés par l'ouverture et les rencontres à la recherche d'un enrichissement novateur.
Ce rossignol aux envolées lyriques est d'un enthousiasme pétillant dans l'exercice de l'échange dont sa carrière s'enlumine de Mac Fallow à Youssou Ndour en passant entre autres par Disiz la peste afin de contribuer à la mise en valeur de l'Afro pop dans le concert des musiques du monde.
La richesse de sa discographie dont la thématique est ancrée aux valeurs essentielles de sa société lui a assigné la reconnaissance populaire et institutionnelle, en atteste les décorations dans les hauts ordres de la république pour services rendus à la culture.
Auteur, compositeur, percussionniste, mélodiste du luth africain nommé Xalam, Pape Djiby BA s'est évertué en s'inscrivant en adulte au conservatoire dans le souci majeur de faciliter les occasions de partage au gré de ce langage universel qu'est la musique.
Aussi, dans sa perpétuelle quête, la séquence helvétique s'enrichit-­‐ elle d'une symbiotique interprétation de son répertoire comme pour prouver que les suisses sont aptes à jouer les musiques d'Afrique.
Ainsi se présente son nouveau groupe au nom générique d'Afro Swiss Band dans la volonté de magnifier les brassages et les communions du possible afin des séductions ambitionnées de divers publics.